News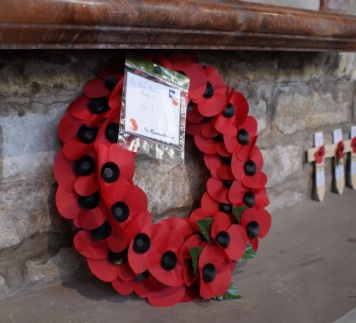 Weekly news letter- week ending 10th November 2017
Today, students and staff took part in acts of remembrance for Armistice. Our Year 7 and 11 students walked to St Marys Church in Bottesford where a short service including readings, prayers and a choral tribute took place. Students who are members of local cadet forces and those involved in the Guiding and Scouting movement were also present with Carly Johnson (Year 11) leading the formal march to and from the service and Jon Algar (Year 11) playing The Last Post. Joining us at the church was Mr David Middleton who presented the academy with a bound copy of the Bottesford & Muston in the Great War book – Lest We Forget and Brigadier Charles Smith who read the commendation. Thank you to Rev Payne and his team for helping us in the coordination of this service and we look forward to visiting the church again next month for our Christmas concert.
Earlier in the week, as part of a host of other organisation, we took part in marking the 800th anniversary of the Charter of the Forest and the launch of the Charter for Trees, Woods and People. Simultaneous events were taking part across our Federation of academies and the national event in conjunction with the Woodland Trust took place at Lincoln Castle on the same day. Head boy, Jamie Gilbertson laid the first soil along with a group of Year 7 historians in a short ceremony led by Mr Brown, Head of History.
Sporting fixtures this week included victories for Year 10/11 girls basketball against John Ferneley and Year 8 girls won against Uppingham. Year 8 boys basketballers secured a draw at Uppingham with the Year 9 boys going one better with a win! Stand out performers were Lauren Geeson and Ella Megan Wright for the girls and Aaron Tuck for the boys. Year 7 netballers fought valiantly but narrowly lost out in the county cup to Welland Park.
Year 11's will be continuing with their revision ahead of the forthcoming internal examinations starting on 20th November. Revision Matters Reward Cards have been circulated to those students who are already attending the additional sessions provided by teaching staff in school. A reminder that there are just 101 academy days to go until the first of the formal written GCSE exams start (with practical examinations a few weeks earlier).
All Year 11 language students, in French and Spanish, have now been set up with individual log-ins for 'ActiveLearn' (the online student section of the Edexcel textbook). MFL GCSE students will be set tasks to complete, but can also log on and complete work / revision activities independently. So, get active all you linguists!