News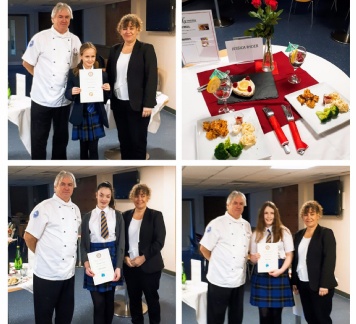 Weekly news letter- week ending 1st December 2017.
Year 11 Internal Examinations are now complete in all subjects. Staff have already started on the marking process and, whilst marking and feedback will take place in lessons, we will be holding a formal results morning on Monday 18th December 2017.
Last Saturday, our DT department hosted the first round of the Rotary Young Chef competition with students competing from every year group in the academy. Across the board, they delivered delicious healthy meals which were beautifully presented. Jessica Ryder was the overall winner and goes through to the next round of the competition – well done! Mrs Exwood and Miss Gant, who supported students on the day, commended all the participants skill and imaginative menu choices.
Staying on the food theme and a reminder that Whole School Christmas Lunch will be on Tuesday 19th December 2017 – payment via the online AGORA system.
Yet another link with the Rotary will ensure that almost 100 families receive shoebox parcels from students here at Belvoir. Miss Steer and the Year 7 tutors and students have been coordinating this fantastic traditional Belvoir activity.
Tickets for the Christmas Concert go on sale next week.
Sporting success continued this week:
a bronze medal for our girls table tennis team
the Year 11 footballers progressing to the quarter finals of the county cup (beating last year's winners)
Year 8 girls are in the Netball county final at De Montfort University next week
Year 10's won the Varsity Handball tournament
Year 8's are through to the last sixteen of the National Cup in football beating Christ the King from Nottinghamshire.
Finally, as the S word (snow!) has been mentioned in the forecast these last couple of days, please may I ask all parents and students to spend a few moments to familiarise themselves with the Emergency Closure process on the academy website. http://www.belvoiracademy.co.uk/page/?title=Emergency+Closure&pid=51. Please also ensure your child knows what to do and that we have your correct contact details on the system.